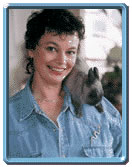 Donna Gillespie was born in Gainesville, Florida, and graduated from the University of Florida in 1970 with a degree in Fine Art. She studied for seven years with Leonard Bishop, a novel writing instructor at UC Berkeley Extension who places a strong emphasis on mastering structure; without him, she doubts she would have made the transition from the short story to the novel. Since childhood, she'd been collecting and reading archeology books, so when she began her novel, using a classical setting seemed a natural choice. THE LIGHT BEARER is her first novel. She presently lives in San Francisco with her dwarf rabbit, Edie. Her current work is a continuation of the same saga begun in THE LIGHT BEARER.
"Historical novels have always had a powerful allure I'll never completely understand; I think it all began when I discovered, at age ten, the novels of Mary Renault--those lyrical and evocative tales that so sensitively revealed ancient Greece. I knew immediately THIS was what I wanted to do when I grew up: to be able to time travel as Mary Renault did, to conjure up the ancient world so that it was as graphically real to me as the small Florida town in which I grew up. Years later, I saw the PBS presentation of I CLAUDIUS, and never fully recovered: First century Rome took over my life.
My novel, THE LIGHT BEARER, came about partly as the result of the fact that I just couldn't get enough of I CLAUDIUS! I read all the sources Robert Graves used for the book, and then began repeatedly raiding the San Francisco Main Library, devouring everything I could find on Roman history and culture. When I began THE LIGHT BEARER, I didn't realize that I was mired in a mammoth project that wouldn't let me go for twelve years. While working on the book, I especially enjoyed the challenge of portraying history from the unknown side, the unpopular side, the seemingly insignificant side, revealing the lives of those individuals about whom the historical record is silent."